Hello dog lovers!  We're all in the Valentine's Day spirit here at the "cafe" and think it would be great fun to get the dogs into it too!  Actually, we'll just find any occasion we can to dress our dogs up because it's really super-cute. Can you blame us?
Do you like to dress your dogs up?  Do you go all out with a whole ensemble or keep it simple with classic bandana? No matter your preference, we've got some got some really cute doggy duds to share with you today.
Valentine's Day Dog Accessories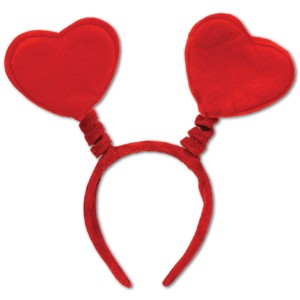 Heart Headband
This headband is not dog-specific but would probably work for larger breeds and would be perfect for a simple Valentine's Day statement.
Dog snoods are great for keeping long ears and hair clean while eating and drinking, but we think this knitted heart snood is the perfect accessory for a cold Valentine's Day.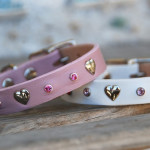 Leather Dog Collar with Hearts
The mix of rhinestones and leather make these handmade dog collars a must-have for your pampered pooch this Valentine's day.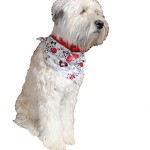 Cotton Heart Bandana
Nothing is quite as dapper as a freshly groomed dog sporting a brightly colored Valentine's Day bandana.  How about a festive red bandana with hearts?
Valentine's Day Dog Clothes
This pink and green fleece sweater with hearts is very festive for Valentine's Day, but can also be worn whenever it's cold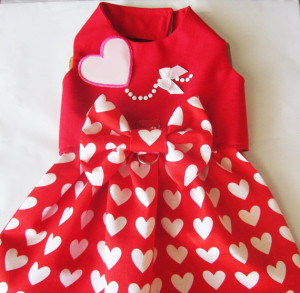 Fancy Valentine's Day Dress for Small Dogs
Are you hosting a Valentine's Day tea for your doggy friends?  If you really want to get the pooches dressed up, this handmade dress will do the trick. A matching vest is also available for the misters.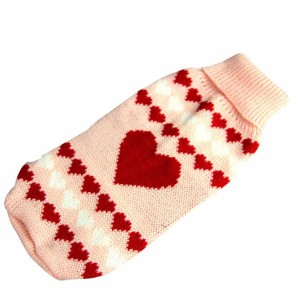 Wool Dog Sweater
The turtleneck collar of this knitted heart sweater adds a touch of sophistication and would look lovely on either a male or female. Luckily, sizes range from XS to XL so you can buy a matching set for your big and little dogs!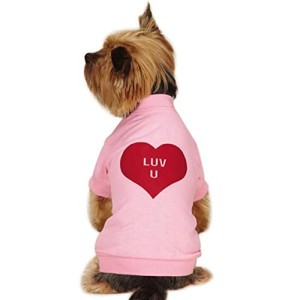 Luv U Heart Dog T-Shirt
I love the simplicity of this conversation heart-inspired dog tee.  I also love that it's a lightweight option, suitable for indoors and out.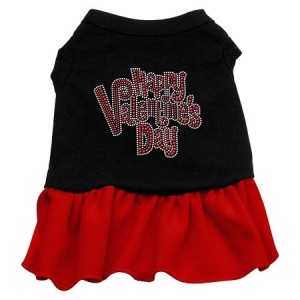 Happy Valentine's Day Dog Dress
Here's another option for dress-loving pups.  This dress is happy and sparkly and sure to put a spring in your dog's step when you put it on her.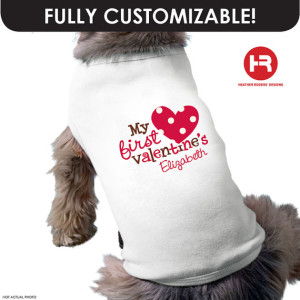 Personalized Valentine's Day Dog Shirt
What a great way to commemorate your special pup's very first Valentine's Day. This t-shirt's fresh design will have everyone singing your dog's name.
Valentine's Day Dog Costumes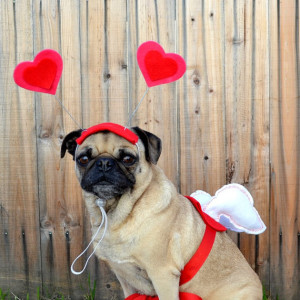 Handmade Cupid Dog Costume
Yes, this is the most adorable little cupid you've ever seen.  You can buy this handmade cupid costume for your own little cherub from Etsy seller ilickyou.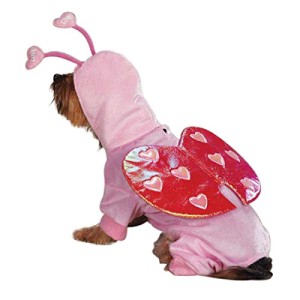 Love Bug Dog Costume
Celebrate the love bug in your dog this Valentine's Day with this sweet, full-body Love Bug costume. I'm loving the hood with the heart antennae!
Ok, so be honest with us.  Are these Valentine's dog clothes totally ridiculous or totally fun?  We think including our dogs in all of the heart-day festivities is a great for bonding and is fun for everyone.
Extra Dress-up Tips
Some dogs have lots of wonderful fur that acts as an insulator and keeps them toasty warm, even in the winter.  Dressing these dogs in a sweater or coat could lead to overheating.
If you dress your dog in any clothing or accessories, always keep a close eye on them and watch for signs of discomfort or stress.  Dressing up should be fun for everyone, including our canine companions.